Kindergarten Freiraum Maxglan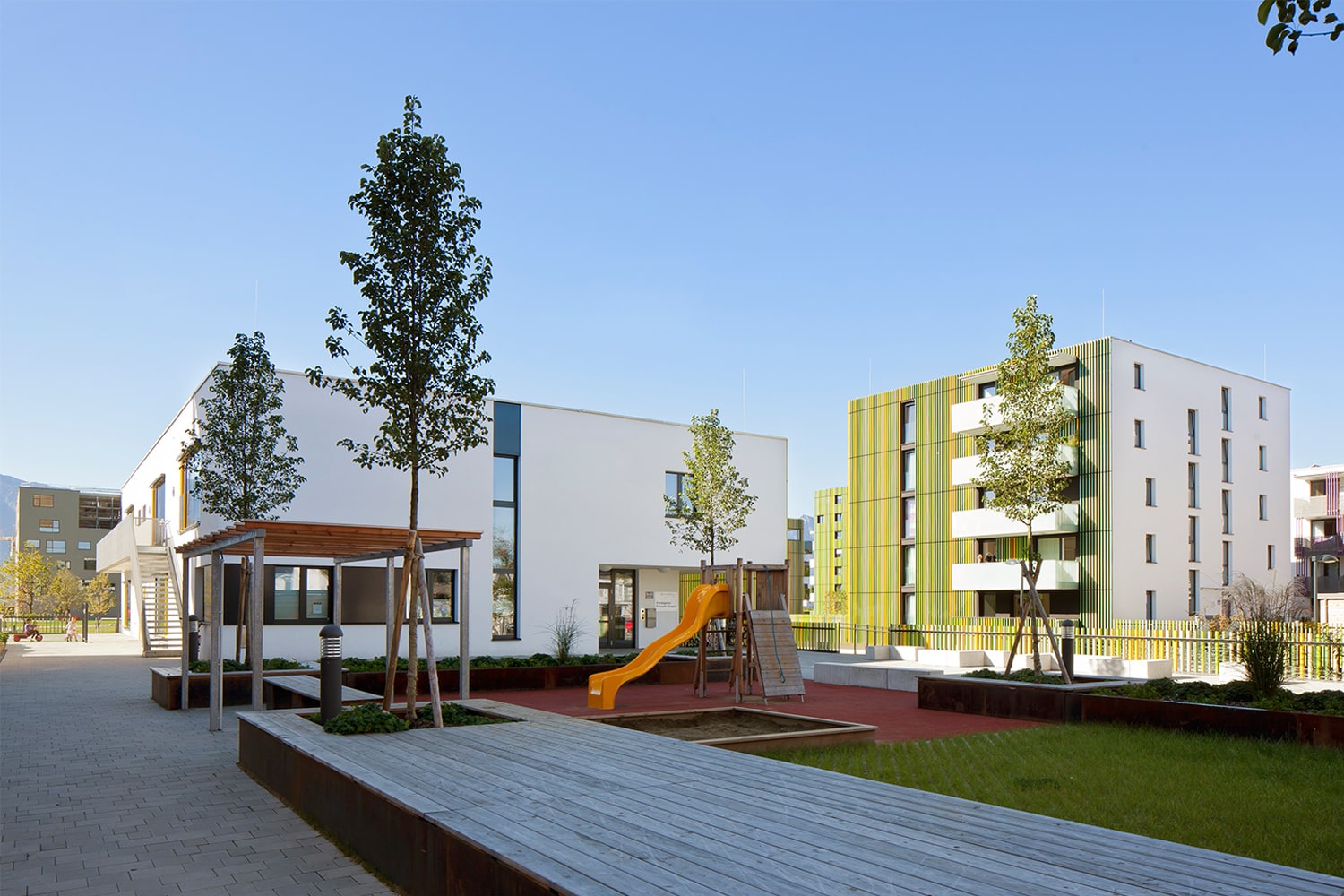 "Both […] architecture offices, Kada/Wittfeld and Schwarzenbacher Struber have been working on the project Freiraum Maxglan
with the goal to create a modern and future-oriented living conditions with a feel-good atmosphere.
This feel-good atmosphere also radiates from the new kindergarten."
Excerpt from meinbezirk.at on 24th April 2014

The basic urban design of Freiraum Maxglan is based on the master plan of kadawittfeldarchitektur gmbh. On the site of the former Struber barracks, a kindergarten was built in addition to a housing development with a total of 350 residential units and commercial space.
Part of the residential buildings as well as the kindergarten was planned by Schwarzenbacher Struber Architekten.
The outer facade of the kindergarten conforms to the overall concept of the residential complex, with its vertical lamella structure. With its shimmering colors, the façade envelops the building. A child-friendly atmosphere was respected with the design to the interior. The adjoining outdoor area and the spacious playground offer the children abundant outdoor space.
Client
GSWB | Heimat Österreich | Steiner & Wanner Wohnbaugesellschaft mbH
Location
Kleßheimer Allee 51B, 5020 Salzburg
Civil Engineer
Spirk & Partner Ziviltechnikergesellschaft mbH
Building Physicist
Ingenieurbüro Rothbacher GmbH
Mechanical Engineer
TB Ing. Lothar Mayer
Electrical Engineer
TB Dieter Hermann – MAYER Nachfolge GmbH
Photographer
Andrew Phelps